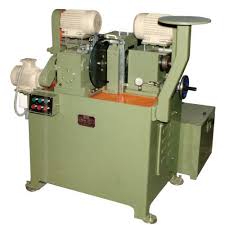 Grinders are the requirement for various industries like engineering, electrical, automobile, and many other industries. A grinding machine is a tool that has an abrasive wheel as its prime component. The material ground in any type of grinding machine is known as the workpiece. From plastics to a range of metals, different workpieces are ground in these machines. One of the most preferred brands of grinding machines is a duplex grinding machine, known for its unbeatable performance and quality.
The duplex grinding machine is a type of tool that is utilized for grinding workpieces. It uses an abrasive wheel as the cutting tool. The rough surface of the abrasive wheel shreds off small portions of the workpiece as required. It is also known as a grinder.
Features of Duplex grinding machine: This machine is designed for milling of Aluminum cases with the feature of component loading and unloading done by hand. This machine has twin spindle assemblages attached on discrete spindle cases, which move in directions on guideways fitted on the machine frame. The spindle slides are run by servo motors via a set of ball screw and timer cranks.
The spindles are run by stimulation motors through inline connectors. The aluminum component is passed in a fitting mounted on a middle slide unit. At the same time, the fixture slide is put in between the cutters for milling process on both the surfaces of the component. The parallelism achieved is less than 8 microns.
Types of duplex grinding machine:
Double disc duplex grinding machine: The double-disc duplex grinding machine offered by leading machine manufacturers is typically used for the crushing of both the faces of different metal components like
1. sheet metal washers,
2. bearing con,
3. auto parts,
4. connecting rods,
5. Piston rings, etc.
These machines are made using the highest grade machine material to ensure that they display strength and durability while using.
Rotary type duplex grinding machine: The reputed machine manufacturers make sure that the machines they offer are made using the best-grade material to promise their long-life. These machines are made double-sided to offer simultaneous grinding which help get the maximum output in the least time.
Through feed duplex grinding machine: Machines help in maximizing the output of our clients due to the double-sided grinding it offers. These machines have no intermediate space between the grinding wheels and easily offer high precision and accuracy in the output.
Horizontal Spindle Duplex Grinder: This type of grinding machines uses the potent double disc grinding technology to concurrently grind opposite and corresponding flat surfaces, at incredible rates of production. It has wheel diameter 400 to 600mm that help deliver the thickness of component 1 to 75mm with finest loading systems to suit customer need.
The major advantage of using this machine is you can control and move it to your convenience.
How to find the best duplex grinding machine suppliers?
Following are the qualities that suggest that any manufacturer is trustworthy.
1. High-quality products
2. Affordable rates
3. Customization option
4. Quality Assurance
5. Shipping service
6. After-sale service
7. Prompt deliveries